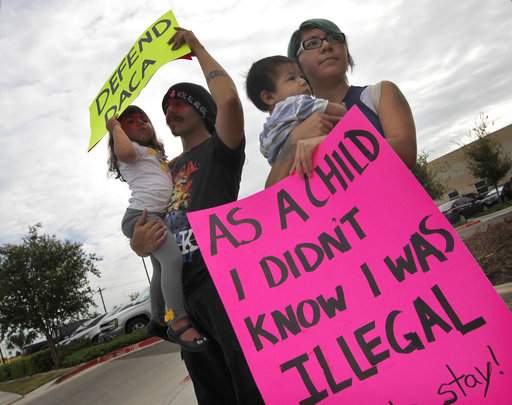 Just recently my dad and I had a conversation about his move from England to Nigeria and then to the U.S. I started to realized how little I really knew about why he decided to make the move and began to put myself in his shoes. When he moved to the U.S. he was 15 years old and looking to further his education. I thought to myself, I could never leave my immediate family in order to move to a new Country. Especially when my future may come down to trial in about four years.
Immigration is a complicated matter that affects many aspects of people's lives in different ways and sometimes does not come down to the individual's choice. President Trump released information concerning the end of the DACA program thus, threatening to end 800,000 children and young adults known as dreamer's right to remain in America. The DACA program was established in order to protect eligible immigrant youth who came to the United States when they were children ensuring safety from deportation. His decision to end the program has prompted protest as well as reactions like that of Arlin, a young activist for immigrant rights and recipient of DACA protection. "I had to take a gap year because DACA kids can't get financial aid or student loans. My scholarships covered almost everything, but not quite. There was $10,000 left for my tuition and my parents couldn't pay it. So I am working. I have been telling myself that I'm going to work really hard and save up everything. But now I'm realizing that I might not be saving money for college but for my new life in a country that I barely even remember," Arlin said. It is important to put a face to the large number of immigrants that will lose their protection and above all, the opportunities their parents fought for them to have.
It is not only their problem, it is your problem too. Their absence may cause us to lose an estimated $460.3 billion in economic output over the next decade as opposed to the $99 billion immigrants are costing the U.S. The solution is not to get rid of the program, but to have an immediate and improved policy in its place.
Maybe, you still think to yourself, they can be replaced by hard working Americans born and raised in the Country and therefore entitled to their jobs. But remember, a lot of the students that are a part of the DACA program, are college graduates who know nothing more than America. The only difference between them and the average American citizen is where they lived at the age of three. We are not where we came from but where we are now, with pieces of our past. We can not treat these new come Americans as anything less than what they are… Americans.