Ready is a quarterly publication designed with the beautiful diversity of women around the world in mind. Ready is edgy… different… content-rich… positioned to create and to encourage passionate conversation about a host of topics around real life issues. Ready is challenging and courageous enough to expose hidden thoughts and to entertain closed-door conversations.
Ready will help influence women to move beyond the status quo and to transcend glass ceilings. Ready is a platform for diverse female voices "sitting at the table" wrestling together through common life situations. Ultimately our hope is mobilization on a grand scale by informing and inspiring women in areas of advocacy, philanthropy, volunteerism, community-building, business development, soul care, economic stewardship, race relations, and politics.
We want to grow together and to join a world-changing movement already underway.
Ready is here to reach and impact families and help them live victoriously. Our articles are thought-provoking, and end with one to three questions to keep the conversation going with our readers.
Visionary & Editor in Chief
I am Gail Dudley, a native of Columbus, Ohio. I dream big and go after whatever is before me. I am excited to work alongside my daughter Dominiq in this venture.
I am married to Kevin Dudley and love being the mother of two amazing young adults, Alexander and Dominiq. I invite you to join me on this journey. READY, an edgy, different, and content-rich magazine for women.
READY, an edgy, different, and content-rich magazine for women.
Follow me on Twitter@GailDudley and @READYPub.
Join me on my website: www.GailDudley.com
"Dream like you know something great is happening in and around you–then expand your view of you." ~ Gail Dudley (I believe "with Christ all things are possible!)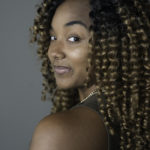 President
I am Dominiq Dudley, a graduate of Howard University with a bachelor's degree in journalism and a concentration in public relations.
I am a public relations professional who is passionate about market and social media communications and I believe that passion is reflected in my work. Having earned a Bachelor of Arts in Journalism with a concentration in Public Relations and a minor in Sociology, I focus on brand management utilizing my creative experience. As I strive for excellence, I live by the motto: "clear and concise with a pop of creativity.
To contact Dominiq:
https://www.linkedin.com/in/dominiqdudley
Vice President
I am Pamela Cherry from Lewiston, NC. I am a freelance graphic designer that loves sharing my skills to see visions come to life.