Today more than ever outcries for social, economic and racial justice are escalating. People around the world are weary of living under the weight of dehumanization. While some have described what is going on as an uproar, I find myself searching desperately for the right words to express my thoughts. Finally, I found my voice during my recent experience of Beyoncé's Formation World Tour. Beyond just being a brilliant performer, Beyoncé is a masterful storyteller. I now understand better why women are able to connect with her so easily. At age 50, I was content to sit through a rainstorm in Chicago in complete awe as I lived and enjoyed the moment. From 'Formation' to 'Freedom,' Beyoncé captured the experience of women and girls around the world. Truly amazing…
#FemaleBlackHistory
at its finest,
and on a very deep level.
Beyoncé has the gift to speak authentically to women and girls of different ethnicities and cultures, but there was something particularly transformative about that night for me. Something triggered within me that connected me with my God-kissed inner blackness. I experienced a multitude of emotions, but I sensed very deeply a renewed confidence and undeniable empowerment that I had been neglecting for years.
It is easy to stray from one's history, but hearing Beyoncé recall simple memories of hot sauce, cornbread, collard greens, and baby hair took me way back. I remembered so vividly my childhood when the elders would lovingly prepare our Sunday meals. It was at the family table that we would experience life-affirming and life-changing conversations. Kitchen-table talk with my aunt, sisters, and grandmother solved every problem there was, as my mom brushed my hair and applied Vaseline to the edges for a smooth finish. Present as eavesdroppers, the kids were to be seen and not heard, and we didn't dare let the table-talk leave the room. When I finally took my seat at the concert to gather my thoughts, I wondered if all those kitchen table conversations are part of the reason why we today have such a strong voice…a fierce roar from women who are truly alive!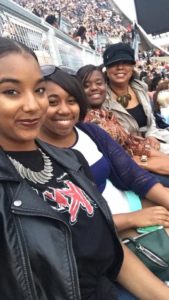 I am grateful to my daughter for including me on her journey with "Queen Bey." A few of us shared a meal the next day to process the experience. The beauty of  the moment around the table was witnessing moms and daughters having open dialogue, raising tough questions, taking strong positions, but in the end, finding common ground. We were empowered, ready to move beyond the status quo, and to be heard.
The concert opened with Formation. I recalled Beyoncé's controversial halftime performance during the 2016 Super Bowl, when this beautiful black woman testified in front of more than 100 million people, having just released the song the night before. Taking the field, dancers adorned in afros and berets formed an "X" and a militant march proceeded. Together, Beyoncé and the gifted army punched the air with their fists in a visual embodiment of power and agency being reclaimed.
It didn't take long for the negative rhetoric through tweets, blogs, news media, Facebook posts, and articles to intensify the unresolved divide that we all know exists in our country. But when the Formation World Tour was announced that same night, the 'Beyhive' fan club (my daughter included) waited in anticipation for the dates and cities to drop, even while police officers in Florida made clear that they would not help staff security at Beyoncé's upcoming sold-out concert. (http://thegrio.com/2016/02/18)
What had just happened?
Could it be that African-Americans desperately crying out for justice makes others so uncomfortable that they can't even fathom having a productive conversation? There was a time not long ago when black people struggled in silence: Keep your mouth shut, keep your head low, and stay in your lane. Through the empowerment of my generation's upbringing and the children of my generation, we have decided that we cannot afford to let our voices be hushed. Communities of African-Americans are responding and refusing to sit back passively. We will not allow aggressive, micro-aggressive and passive-aggressive behaviors to rob us of our God-given dignity.
Could it be that tensions are rising now because women and girls refuse to be quiet? We have come into our own. We are fierce. We are taking a stand against being mistreated, discriminated against, being paid lower wages, and being controlled by those who reject our humanity.
I went to the Beyoncé concert for two reasons: One, because my daughter invited me. Having just graduated from Howard University, we decided this would make a wonderful mother-daughter get away with friends. The beauty of this particular concert was that many other mother and daughter teams were attending. But the other reason I attended was related more to my social consciousness. I wanted to understand why this brilliant artist deserved to receive such constant resistance, hostility, and opposition.
Beyoncé is a woman, a wife, and a mother. She is a successful businesswoman who operates on a global platform. She is young, gifted, and black. Her performance radiated empowerment. I came away empowered beyond measure, inspired and ready to make radical changes in how I think, how I do business, how I lead, and how I respond to whatever challenges and opportunities that life brings.
On that opening night of the Formation World Tour in Chicago, I stood in the rain, drawn in completely by the performance. I could not resist standing and cheering Beyoncé on as she performed. I was moved to join the ranks when she and her team displayed their artistic genius.
I found myself singing along on several of her older songs, even crying when she sang Sandcastles. At the height of the concert I jumped and I danced like never before. That was it! The transformation and transition from 'Formation' to 'Freedom' was undeniable.
Pride…Empowerment…Boldness…
Confidence… Resilience…
Self-esteem…Life
The journey came full circle for me that night as I let my life speak.
Reprinted from 2016, READY Publication, The Fierce Issue ~ Gail Dudley, co-founder

February 1, 2020 #BlackHistoryMonth